Use code Phytex10 in your cart to save 10%.
Phyllotex® is a healthy hair vitamin, proven to promote growth of more, thicker, longer, stronger hair.
Drug Free
100% Vegetarian
Patented Formula
4 Mechanisms of Action
Free from: Gluten, Soy, Nuts, Dairy, Sugar
Phyllotex hair loss vitamin stops hair shedding and thinning, promoting healthier, longer, stronger, more beautiful hair. Phyllotex users often see shedding slow or stop in less than 2 months; and most users start to experience more benefits at 4 – 6 months. Try a monthly subscription or our special 4-month supply and see how Phyllotex helps you and your hair shine!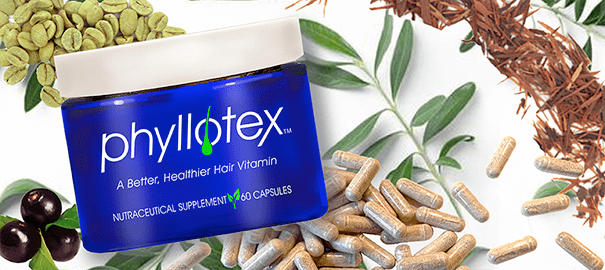 Take the First Step to Getting Back Your Healthy Hair


"After having taken Phyllotex for 4 months, my hairdresser mentioned that my hair changed and was stronger. He told me it had changed enough that I could change my hair..."
— Zohar, a woman who has experienced severe hair loss for many years
see more results ›


"I definitely am shedding less—my shirts used to be covered with my hair all of the time and now they aren't. I also have a whole new row of hair up front."
— Alisa, 7 months of use
see more results ›


"I'm really excited! Since using Phyllotex I am showing signs of real hair growth."




— Monica, 8 months of use
see more results ›


"For many years before taking Phyllotex my hair would stop growing when it reached just past shoulder length. Since using Phyllotex my hair has suddenly grown several inches longer and everyone tells me how great it looks!"


— Ivanete, 4 months of use
see more results ›
Phyllotex's precursor-vitamin was a super-supplement, packed with nature's most effective ingredients for reducing inflammation and boosting immune health. When users noticed that the vitamin helped them reverse hair shedding and thinning, our scientists studied its effect on hair follicle cells and fine-tuned the supplement to come up with today's Phyllotex, a women's hair loss vitamin that promotes:
Less hair loss: Phyllotex has been proven at the cellular level to block the negative effects on hair follicles of a naturally occurring protein all men and women have in their bodies that scientists nickname the hair assassin.
Thicker, longer, stronger hairs: Phyllotex hair loss supplements both enable better blood flow to your skin and hair follicles and include the nutrients that make your hair follicles thrive. So each hair on your head -the long ones and the miniaturized hairs- can become thicker, stronger and longer.
Less scalp showing through: A natural result of less shedding and thicker, longer, stronger hairs is less scalp showing through. This can be a real confidence booster!
Healthier hair, healthier you. When you take Phyllotex to stop, slow or reverse your hair loss you'll get healthier skin and a healthier immune system too! Skip the drugs and their nasty side-effects. Phyllotex is a vegetarian, all-natural supplement free from gluten, soy, dairy, and added sugar, so you can take it with confidence for a lifetime of healthier hair and healthier you.
Phyllotex works for many, many people because it has been proven -at the cellular level- to address 4 separate hair follicle health challenges. So, whether your hair loss is caused by problems with circulation, nutrition, too much "hair assassin protein," or environmental stress, Phyllotex can help.
Phyllotex all natural hair loss vitamin is easy to use: just take 1 capsule twice a day.
Phyllotex has been proven at the cellular level to address 4 separate hair follicle health challenges, so whether your hair loss is caused by problems with circulation, nutrition, too much "hair assassin protein," or environmental stress, Phyllotex can help!
Phyllotex is made at a one of the USA's top vitamin manufacturing plants under strict guidelines. It is safe and effective for most people; if you are pregnant or have a medical condition, of course check in with your doctor before starting Phyllotex.
More Blood can Reach your Hair and Skin (aka Better Microvascularization)
The millions of cells in our hair, skin and nails are kept alive and healthy by the blood vessels that deliver their food and oxygen. Phyllotex helps keep your microvascular system—the teeny blood vessels that serve these extremities —humming.
So if your hair loss is caused by poor blood circulation to your hair follicles—a natural part of the aging process—Phyllotex can help.
A Blend of Nutrients that Makes Your Hair Follicles Thrive & Grow
Our scientists compared Phyllotex to well known hair growth compounds in the lab. Both female and male hair follicle cells responded beautifully to Phyllotex's patent pending, all natural formula. In fact Phyllotex drove at least as much cell growth in the lab as well-known drugs—and Phyllotex is NOT a drug.
So if your hair loss is caused in part by nutrients missing from your diet, Phyllotex can help.
We Beat the Hair Assassin
There's a protein in our bodies that scientists nicknamed "the hair assassin." When this protein binds to hair follicle cells, it's not pretty.
When we added the hair assassin to follicle cells in our lab, the cells bathed in Phyllotex did way better. Phyllotex naturally counteracts the protein's effect – without the nasty side effects of drugs.
So if your hair loss is caused by the hair assassin protein, Phyllotex can help.
We Protect Hair from Stress
Women and men are experiencing thinning hair at earlier and earlier ages. Many believe this is in part caused by our harsh environment: stronger UV rays, air and water pollutants and other factors are stressing our skin and hair to the max.
One of our researchers discovered that Phyllotex shields hair from environmental stressors.
So if your hair loss is caused by the environment, Phyllotex can help.
Learn More About the Science Behind Phyllotex®
Phyllotex's science is published in a prestigious peer reviewed scientific journal: Heliyon / Cell Press / Science Direct. Read the abstract or full article here:
Hair growth-promotion effects at the cellular level and antioxidant activity of the plant-based extract Phyllotex™
Vitamin D– Stimulates new and old hair follicles. When there isn't enough vitamin D in your system, new hairs can be stunted.
Pantothenic Acid– Helps prevent moisture loss from hair products and environmental factors such as UV rays.
Magnesium– Helps prevent calcium buildup on your scalp and improves circulation. Better circulation means that other nutrients from your diet are getting to your follicles.
Zinc– Plays an important role in hair tissue repair. It helps keep the oil glands around the follicles working properly.
Proprietary Blend– Includes extracts from acai fruit, green coffee bean, pau d'arco bark and olive leaf. The outer capsule (shell) is also 100% vegetarian.